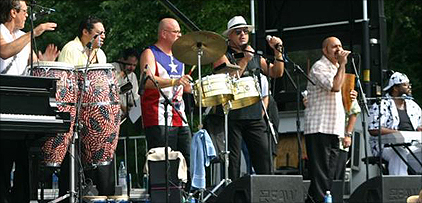 Cintron is a fifteen piece Latin Jazz band formed by the legendary jazz percussionist Edgardo Cintron and producer/vocalist, Rocco DePersia. Together they have assembled fifteen high octane musicians from around the globe who boast past credits with an impressive list of major recordings from Latin, Jazz, Pop, and R&B. Mike Pedicin Jr. on saxophone, JAYAR on vocals, Luis "Tony" Perez on vocals, and Joe "Stretch" Vmson on guitar are just some of the seasoned musicians that help Cintron blend Caribbean Rhythms with dance friendly Latin Jazz, crossover Latin Pop, bilingual salsa, and old-school R&B.

Cintron came together in the winter of 2000-2001, and made their first live appearance on January 20, 2001 at The New Millennium Diversity Presidential Inaugural Ball for President Bush in Washington, DC. They made musical history in New Jersey on January 15, 2002, as the first Latin Rhythm band to feature at a Gubernatorial Inaugural Ball. They currently perform at major Latin, R&B/Jazz concerts and festivals and have been featured in major trade publications such as Billboard and Latin Beat. They have previously released two CDs, Absolutely and Hitmen, which received exceptionally favorable reviews and significant radio play. The band has also appeared on "BET On Jazz", ABC's "Puerto Rican Panorama", Time Wamer's "Mixdown", Telemundo, "Emeril Live," and "Happenings'.

Cintron's new CD, Back In The Day. will be released on CAM-JAM Records and distributed by AgU Music/Universal Music Group. This CD features Cintron's unique sound on several classic covers like "Suavecito", "All Day Music", and "Expressway To Your Heart" (featuring the Soul Survivors!) together with original creations like "Anita" and "In My Heart". One original, "Where Do We Go From Here?", was actually written by Rocco's father over fifty years ago and now appears in this brand new CD featuring background vocals by Rocco's daughters.

Edgardo Cintron is a second generation Puerto Rican who attributes much of his musical influences to his father, Pablo Cintron, a guitarist in the US military band. In 1988, Edgardo formed his own band, The Tiempo Noventa Orchestra. He released his self-produced CD entitled "Musica Caliente" in 1995 which also featured saxophonist Mike Pedicin Jr., known for his works with, among others, Stevie Wonder, David Bowie and The Funk Brothers. Edgardo later recorded two more CD's entitled Spanish Eves and Straight No Chaser. Straight No Chaser went on to #16 on the Gavin Jazz Charts.

Vocalist and Co-leader of Cintron, Rocco DePersia, is also a producer and promoter with over 350 Latin dances and concerts under his belt and, together with Edgardo and keyboardist. Jimmy Lopez, is responsible for most of the writing, producing and arranging of the band's music. DePersia is also an attorney in New Jersey and prior to forming the band, Cintron, was the owner of a successful Latin Bar and Restaurant in Camden, New Jersey. To mix it up a bit more, DePersia also managed the career of former WBA World Heavyweight Boxing Champion, Bruce Seldon.

The band also consists of Noel Cintron on Congas, Edward "Dice" Centeno on bongos, Bobby DePersia and Anthony Bartolemeo on vocals, Don Collins on trombone. Angel Velez and James Dennis on trumpet, Mike Colon on bass, Bobby Michaels on saxophone. Dee Pappas, Gill Cruz and Umberto Alicia are brought in for special appearances.

The result of this collaboration of talented individuals is a distinctive musical journey that successfully introduces all of the above elements to the listener in an enjoyable experience guaranteed to get the blood flowing and the feet moving. So if it seems you are hearing one group on Latin, Jazz, and Pop radio, mixed with the sass of a seasoned Salsa band, the creativity of Latin Jazz, and the soul of R&B, you are probably listening to the newest offering from CINTRON!